The Veranthea Codex Kickstarter is nearly 50% funded and has over 100 backers!
To celebrate these milestones, they've revealed five new add-ons: a GM screen, Face Cards, NPC Cards, VTT Maps, and (yet to be unlocked) custom dice!
If you haven't checked out the Kickstarter page yet, go now and download the four *free* preview PDFs to see what the Veranthea Codex team is bringing to the Pathfinder Roleplaying Game.
There's plenty of podcasts and other news articles for this fantastic Kickstarter on www.verantheacodex.com, and if you're still not sure of what these talented artists, innovative designers, and compelling writers are all about, the Veranthea Codex tumblr updates every single day until the funding period ends!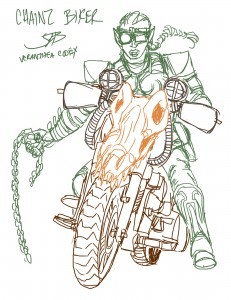 Right now there are 32 pages of content about Veranthea, ranging from new mechanics (like Global Rules, Magic in the Dynasties, and the Conxecron Instigator inquisitor archetype) to adventure content (such as the Grualroth's Rot Adventure path, Bad Omens in Ominara, and how to run a game for dragon PCs in Trectoyri) to revealing information about the world itself.
Read about the Chainz biker gang in Filthton, the three great unifications of clans in Urethiel, the oldest nation in Grethadnis and the newest, most violent upstarts!
Learn how the Unwanted Folk came to rule the monstrous continent, who among them holds power, and how they maintain it (along with the rebellious freemen and women it is leveraged against most)!
See the beautiful concept artwork by the illustration team, read the compelling compositions of the writers, and learn about the history and gods of this amazing world!
Head over to the Veranthea Codex Kickstarter page, get your free preview PDFs, and pledge to this project!
Facebook Comments
comments