The phrase that comes to mind is: Back to basics.
It's very easy to get caught up in big games. We live in a day and age where gaming has become more than just hacking and slashing but has evolved to be an almost cinematic effect. Graphics, art, storyline, game play all combine to give us a unique and thrilling experience with which to spend our time. When one considers the ruckus that the Mass Effect 3 ending has caused it's clear that gaming has moved beyond just being a means of procrastination and has become a way of chosen life. Families now play Wii together, room mates lan across the hall and people, like myself, will spend over 40 hours immersing them in a world beyond imagining. It's one of the reasons I like gaming because it gives me a chance to make choices, see locations and be people that my normal life would not allow me.
It's very strange for me then that I find myself completely taken by a game as simple as internet scrabble.
I discovered it quite by accident. I had seen a friend of mine play 'Words with Friends' on Facebook and had found myself thinking: I'd like to do that. Of course, I'm probably the only person in the universe who does not yet possess a Facebook account and didn't find the need to shuffle letters so pressing that I'd open an account. Instead, I find myself searching for a means to cure the curiosity the old fashioned way. I googled it and found an Internet Scrabble Club.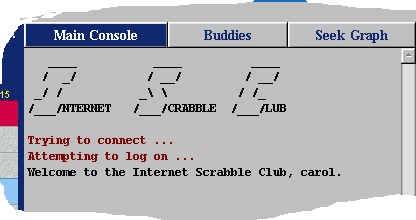 The Good. 
If you just want to play scrabble, this is the place for you. There's no need to link up with friends, no need for Facebook or any other social network account. All you can do is go to the website, register your name (without fuss or spam) and download their application. Install and wala. Scrabble at your fingertips.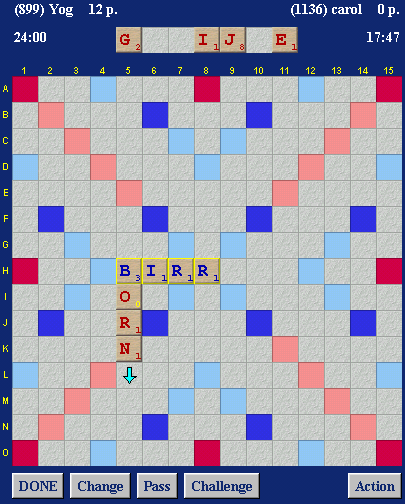 The Bad
I'll confess it took me a while to figure out the website and how the board works. Of course, we can argue it's because I didn't read the manual, but it was still hard. The server isn't very busy either and it can take you a while to find a game if you do not log onto the internet during conventional times. The club itself works on a rating system. Games won increases your rating, games lost decreases it. The critique on the system is that it's very hard to begin as a newbie. I haven't played scrabble in years and soon found myself scrambling to try and determine why suddenly words like EA and CH were worth a fortune. I was quite determined to beat the system and make it work but for someone just starting it might be a bit intimidating.
The Pleasant. 
The community is good and friendly, the bandwidth usage very low and the whole theme of the game just to play scrabble. One of the reasons I despise Facebook is because I'm constantly forced to deal with other people's lives in which I have very little interest. Here, I can just sit and play a few games and leave again. No emotional attachment, no commitment to friendship or bombarding of personal information. It's just about the game and I love it.
So, if you're looking for a way to not only increase your two letter word knowledge, but challenge yourself a little bit outside of the box, I'd say this is the website for you. It's fun, it's fast and ultimately – it's basic.
Anybody can play scrabble, though I doubt few can do it as badly as me.
Facebook Comments
comments